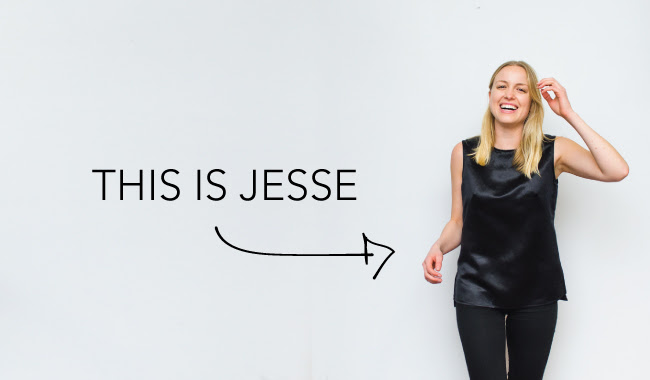 Jesse's been on a journey for the last several years to create fashion that fits her aesthetic and is made in a way she believes in. We met four years ago via (what else?!) the internet. Now we're studio-mates. And today, she's launching a Kickstarter for her company, EENVOUD - collection of GORGEOUS responsibly-made pieces. SHARE + SUPPORT HER HERE. (Even if it's just a tweet!)
E-mails like this weren't uncommon. So I would have never have guessed that, four years later, Jesse and I would be sharing a studio together in NYC, building our mindful companies side-by-side. (Here's the space we're moving into!)
Very few people do what they say they're going to do. And even fewer people do it with integrity. But Jesse followed through: she got an associates degree at Parsons. She started working as a fit model to pay bills, and began designing her line of minimalistic womenswear, making patterns, and even enrolling in Shannon's Factory45 program to accelerate the process.

Now, she's Kickstarting her first collection — beautifully-sewn essentials (I've seen them in person!) made with fabric I wholeheartedly support. Pending Kickstarter success, her line will be produced in NYC.
Support Jesse here – you can help her out by sharing this link (and backing her Kickstarter, of course!): http://kck.st/1FG96c4We need more women making things like this – with heart.
Cheers to thoughtful apparel, responsibly made, by women who walk the talk.
XO